You are 3-2 down in the last minute, you have a corner, every man goes up, what happens next?
Lea United's goalkeeper Dominic Jolly has became an unlikely hero – and a social media star – after his last gasp overhead kick helped his side to a 3-3 draw against their fierce rivals Ribbleton Warriors in Division Four of the Lancashire Sunday Football League.
Moor Park erupted as spectators couldn't believe what they were witnessing in something not even the Premier League could script.
The video of the goal did the rounds on Twitter and other social media platforms, gaining recognition from news pages such as The Guardian, ODDSbible, TalkSPORT, and ESPN.
It also attracted the attention from Premier League goalkeeper, Ben Foster who is a big internet sensation through his YouTube channel, 'TheCyclingGK'.
UCLan Live spoke exclusively to Dominic on the goal and how he has reacted to the goal going viral.
He said: "I've never known love like it.
"Getting recognition like this is good for the club , myself aside it could happen to anyone – it's absolute madness.
"I'm trying not have people ask about just myself and make it more about our team."
The 24-year-old was out at dinner with his partner when he received the tweet from the former Manchester United goalkeeper, who he is a big fan of.
When asked about it, he said: "When I saw that my first initial instinct was 'I'm getting that printed, I'm getting it framed and that is going on a wall to show my grandkids'.
"Hit me up! I want to send him some of my gloves to sign, I love all his videos – it's really nice to see an insight into a professional's mindset."
He also didn't rule out a potential collaboration with the Watford goalkeeper, but when asked about whether he could recreate the goal for a video, he promptly said: "If you gave me all the time in the world, all the balls, all the people feeding me I would never be able to recreate it.
"I would love to collab with him on goalkeeping techniques!," he added.
Lea's manager Reece Nuttall said: "The 'keeper has gone up against my instruction and I did in fact tell him to stay back but he was adamant.
"I couldn't believe what I saw – I was in two minds whether to run on the pitch and get a fine.
"Looking back, he probably did make the right decision and ignoring my request."
The 19-year-old enlisted Jolly into the team in November last year.
Ben Lang, 21, who took the corner that led to Jolly's acrobatics, said he is 'happy' to let his recognition for the cross to be put to one side.
He said: "I'm just thinking 'put a good ball into the box, put a good ball into the box, just put it in a good area'.
"I see Dom in there and I think Dom is a big enough target fair enough and I'll try my best to try and get it to him.
"I was having flashbacks to Liverpool's goal last season with Alisson and I just thought 'imagine if something like this happens and obviously something better probably happened!"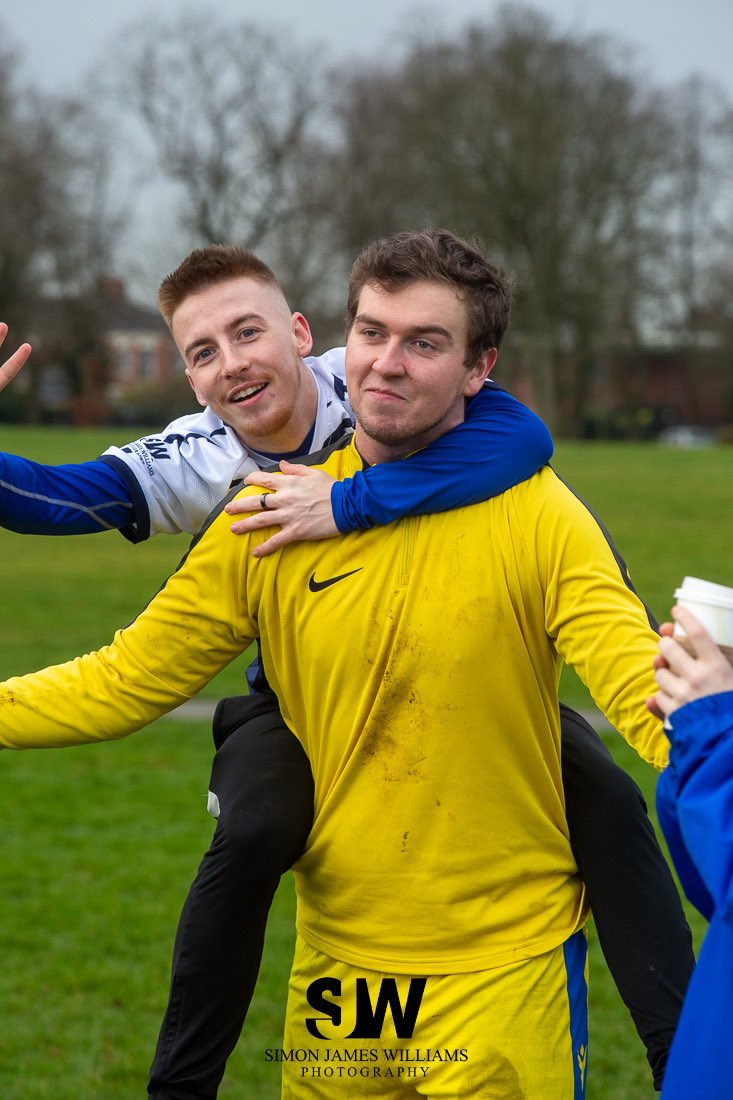 Amongst all the madness, Lea United have already issued a 'hands off' warning to any potential suitors who may make a late move on Deadline Day.